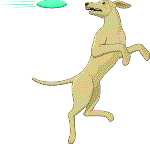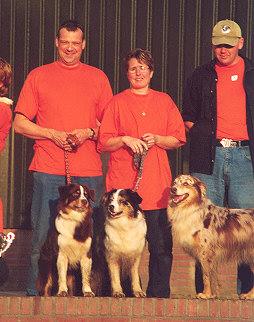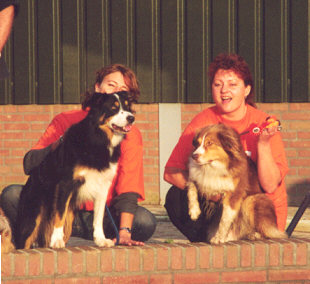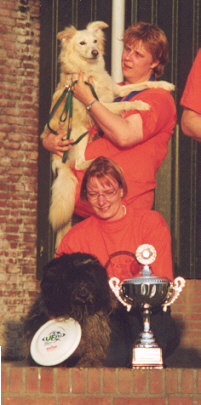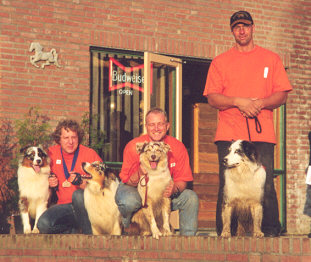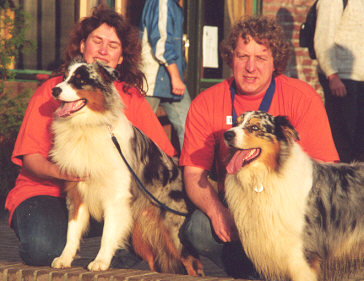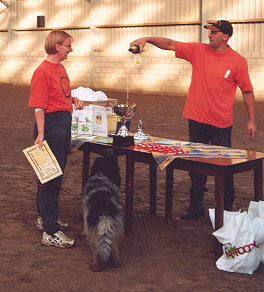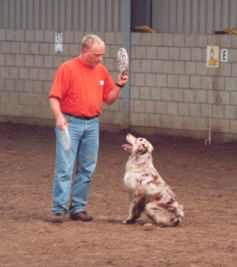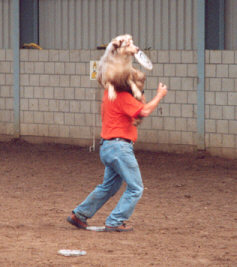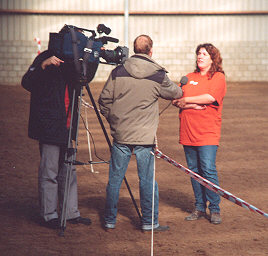 Deelnemers aan het eerste Nederlands kampioenschap frisbee voor honden 2001 op 28 oktober in Nistelrode/competitors at the first Dutch dog frisbee championships on October 28th 2001 in Nistelrode: Walter Stehmann met Scooter en Beetle (Aussies), Ben Honingh met Chinook (Aussie), Erica Honingh met Maggie (Aussie), Pieternel Malherbe met Puck (Labrador), Karola Bosman met Tosca (kruising), Joost Boer met Jack (Aussie), Godfried Dols met Dito (alweer een Aussie), Marjelle Maljaars met Borre (Schapendoes) en Sandra Funcke met Guust (Border Collie)

Beetle en Scooter waren natuurlijk ook van de partij. Beetle deed mini-distance met Judith en Scooter deed mini-distance en far-away met Walter en freestyle met Judith.

Beetle and Scooter were competing at the championships. Beetle was entered for the mini-distance with Judith and Scooter competed in mini-distance and far-away with Walter and freestyle with Judith.

Meet the frisbee maniacs!

Walter + Beetle & Scooter, Godfried + Dito, Frans + Chris (# 1 mini-distance)

Sandra + Guust (# 1 far away), Renate + Merci

Ben + Chinook, Erica + Maggie, Joost + Jack

Karola + Tosca

and the overall winner is...

Marjelle + Borre!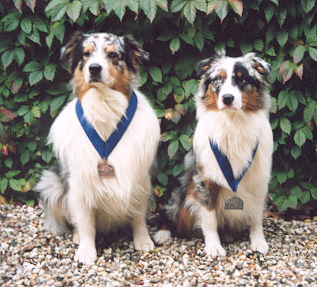 Champagne for Borre!

(en we dronken allemaal mee uit de beker.../and everybody helped Marjelle to finish the bottle...)


Beetle blafte voor de Brabantse radio en onder andere Judith stond de televisie te woord: frisbee is een hele leuke sport, bla bla bla bla...

Beetle barked for the local radio station and Judith was one of the competitors who was interviewed by Dutch television: frisbee is such a fun sport, bla bla bla bla...

Godfried had het nog slechter getroffen. Hij moest speciaal voor de tv-camera freestyle doen met Dito...

Godfried had the worst press experience. He had to perform freestyle tricks in front of the tv-camera...

...En dat deed hij toevallig heel erg goed! :-)

...Which he, by the way, did very well! :-)

Scooter en Beetle kwamen ieder thuis met een medaille. Brons voor Scooter (gedeelde 3e plaats mini-distance), zilver voor Beetle (2e plaats mini-distance)!

Scooter and Beetle both came home with a medal. Bronze for Scooter (tied 3rd place mini-distance) and silver for Beetle (2nd place mini-distance)!


Meer weten over het NK frisbee?

Want to know more about the Dutch frisbee championships?

die het NK zo geweldig hebben georganiseerd

who did such a great job organizing the championships

Ga naar de site van de Nederlands kampioen frisbee 2001: Borre!
Go to the site of the Dutch frisbee champion 2001:
Borre
!
een impressie...

...an impression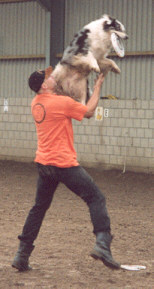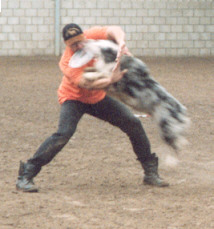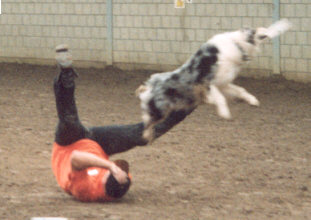 Frans en Chris performden zich helemaal suf...

Frans and Chris kept on performing...

Scooter stelde op het NK een wisselprijs beschikbaar voor de meest veelbelovende combinatie. De prijs, een aquarel gemaakt door

Connie Hull, ging ditmaal naar Pieternel met Labrador Puck.
Scooter presented a challenge trophy for the most promising team. The trophy, a watercolor artwork by
Connie Hull
, was won by Pieternel with Labrador Puck.