In september kregen Scooter en Beetle een uitnodiging van Henrie en Janine om op de eerste Of Clan Miphydes familiedag te komen met behendigheid, flyball, frisbee en een schapentest. Zes van de acht nu 22 maanden oude pups uit het nest van Scooter x Phyrne waren aanwezig! Alleen de twee red tri broers, Buddy en Kylian, waren helaas vanwege familieomstandigheden en vakantie verhinderd.
In September, Scooter and Beetle were invited by Henrie and Janine to come to the first Of Clan Miphydes family day with agility, flyball, frisbee and a herding test. Six of the eight now 22 months old pups from the litter were present. Unfortunately the two red tri brothers, Buddy and Kylian, couldn't come due to family circumstances and holiday.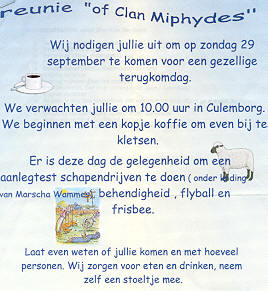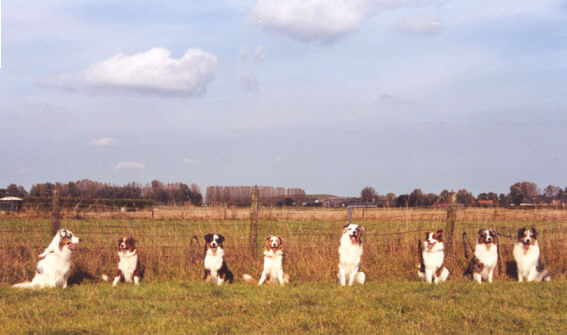 Of Clan Miphydes familiedag 2002
Of Clan Miphydes family reunion 2002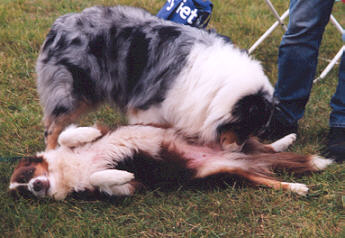 Waarschuwing! Foto ongeschikt voor jonge kijkers!
Warning! Very explicit picture!

Een trotse Janine heette iedereen welkom
A very proud Janine welcomed us all

Jarid: He ik ken jou, jij bent mijn fokker!
Jarid: Hey I know you, you are my breeder!

Scooter en Phyrne hielden zich ondertussen met hele andere dingen bezig (schamen jullie je!)
In the meanwhile, Scooter and Phyrne were busy with other things (shame on you two!)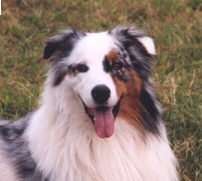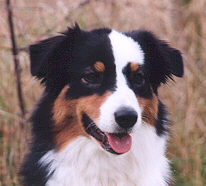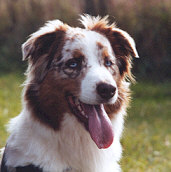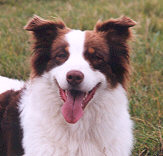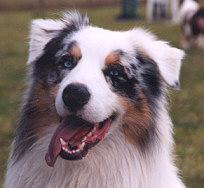 Beetle kon kennismaken met drie zussen en twee broers:
Beetle had a chance to meet three sisters and two brothers: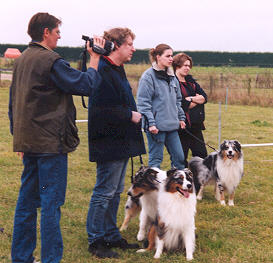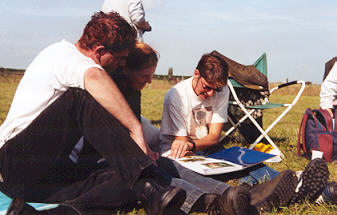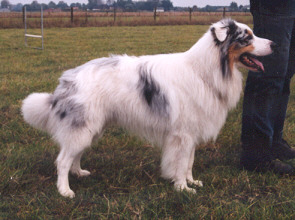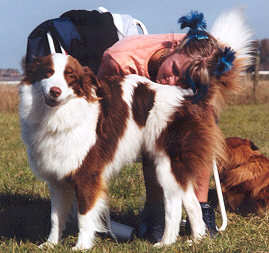 De eigenaren filmden en keken foto-albums...
The owners filmed and looked at photo albums...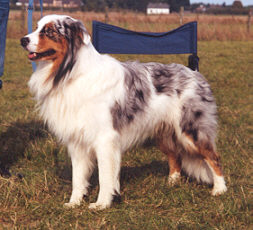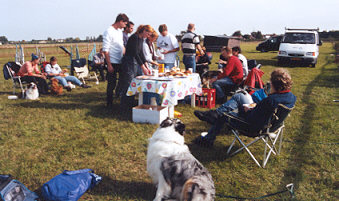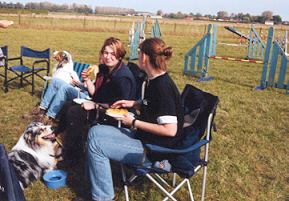 Witte Flint is uitgegroeid tot een flinke jongen...
White Flint has grown up into a big boy...

...en broer Woesh studeert voor reuzenaussie!
...and brother Woesh is turning into a giant Aussie!

Shifra is in haar doen en laten
een kopietje van haar moeder Phyrne.
In her looks and ways, Shifra is a
carbon copy of her mother Phyrne.

Het weer was prachtig, dus konden we buiten picknicken.
The weather was beautiful, so we had a picknick outside.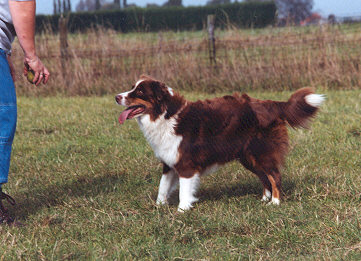 Phyrne: kom op, gooi die bal nou!
Phyrne says: come on now, throw that ball!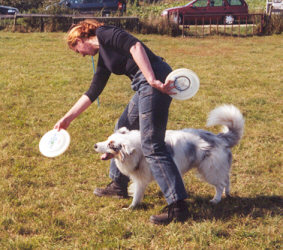 Dit zijn Inge en Ange, de eigenaren van Sandeau, de nieuwe vriend van Phyrne.
Meet Inge and Anke, the owners of Sandeau, who is Phyrnes new boyfriend.




Sandeau drijft schapen (...hard!)
Sandeau herding sheep (...fast!)

Anke: oei ik word misselijk van al die rondjes...
Anke: oops I think I am getting sick of all those circles...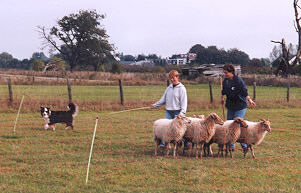 Jarid maakt kennis met de schapen.
Jarid meets the sheep.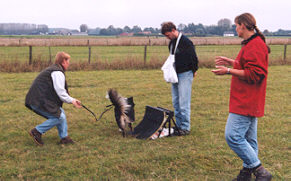 Jarid speelt flyball met Hetty...
Jarid plays flyball with Hetty...

...en frisbee met Marleen.
...and frisbee with Marleen.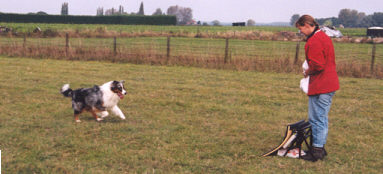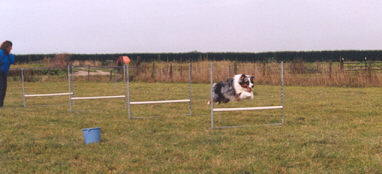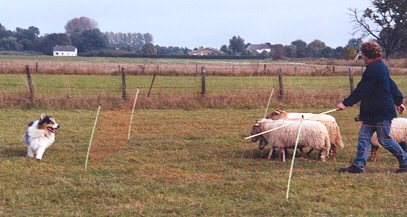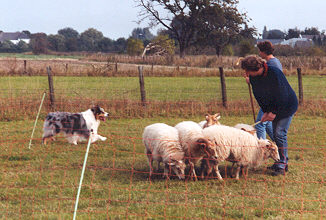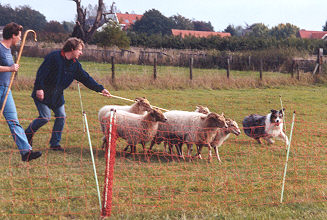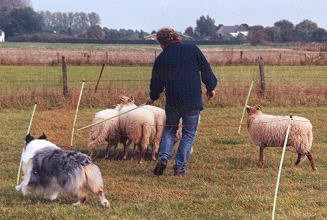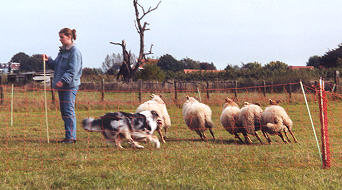 Flint leert freestyle frisbee spelen.
Flint learns how to play freestyle frisbee.

...en Sandeau bleef maar achter de schapen aanrennen!
...and Sandeau kept on running after the sheep!

Beetle stuitert naar het flyballapparaat...
Beetle bouncin' on his way to the flyball machine...

Ja daar is mijn ballerdebal!
Yeah there is my ball!

Vader Scooter doet ondertussen zijn eerste ervaringen met schapen op...
In the meanwhile, dad Scooter has his first experience with sheep...

...en hij schijnt er nog aanleg voor te hebben ook!
...and it seems that he has some talent!

Nu ben ik echt misselijk!
Now I am really sick!



Dankjewel Henrie en Janine voor het organiseren van deze geweldige dag. Tot de volgende keer!
Thanks Henrie and Janine for organizing such a wonderful day.
See you soon!

Scooter: voor mij een broodje kaas graag
Scooter: I would like a cheese sandwich please