The Scooter & Beetle Selection

Beetle says:

this page contains COOL stuff for COOL dogs!

Scooter en Beetle werken allebei part-time als testhond. Ze proberen allerlei nieuwe dingen voor honden uit. Op deze pagina stellen ze een aantal van hun favoriete producten voor.

Scooter and Beetle both work as part-time testdogs. They try out all kinds of new stuff for dogs. On this page they introduce some of their favorite products.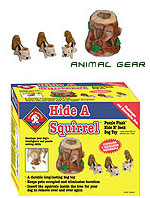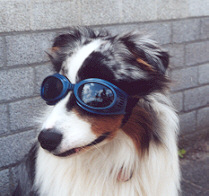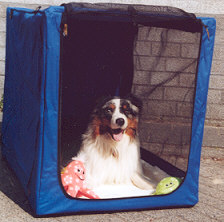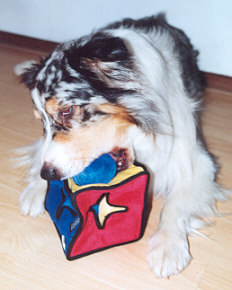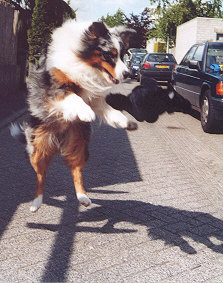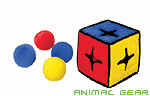 Dit is Beetles favoriet: de Wild and Crazy miereneter. Hij is groot, hij gromt, hij heeft een rammel en een fantastische slurf waarmee je hem door de kamer kunt gooien. Wat wil je als Wild and Crazy Aussie nog meer?

This is Beetles favorite: the Wild and Crazy ant eater. It is big, it growls, it has a rattle and a great trunk so you can swing it ful speed through the room. What else could a Wild and Crazy Aussie wish for?

Scooter is gek op puzzelen en demonstreert hier zijn I-Qube: een stoffen kubus met daarin vier pluchen ballen met piep. Hij haalt de ballen er sneller uit dan wij ze er in krijgen!

Scooter who likes to solve puzzles demonstrates his I-Qube: a cube made of fabric with four plush balls that squeak. He is quicker getting the balls out of the cube than we can push them back in!

Nog een puzzel waarmee Scooter zich prima vermaakt: een pluchen boomstam gevuld met drie dito eekhoorns. Elk eekhoorntje is voorzien van een flapstaart en een piep.

Another puzzle that Scooter likes: a plush tree with three plush squirrels inside. Each squirrel has a floppy tail and a squeak.

Geloof het of niet, maar dit ringvormig beest heet Scooter! Scooter het stinkdier om precies te zijn. Met ingebouwde rammel en piep.

Believe it or not, but this ring shaped animal is called Scooter! Scooter the Skunk, to be more precise. With built in rattle and squeak.

Let op: pluchen speelgoed is NIET geschikt voor honden die slopen.

Please note: plush toys are NOT suitable for destructive dogs!


Het was bedoeling dat we deze opvouwbare bench alleen maar zouden testen, niet zouden kopen. Maar Beetle besliste anders: hij was er gewoon niet meer uit te krijgen! Deze lichtgewicht port-a-crate is reuze handig om mee te nemen naar evenementen. Verwacht niet al te veel stevigheid en stabiliteit, Beetle weet al hoe hij hem omgerold krijgt.

We did not have the intention to buy this foldable crate, we only wanted to test it. But it seemed that Beetle made another decision: we just could not get him out of it anymore! This lightweight port-a-crate comes in very handy at dog events. Don't expect too much stability though, Beetle has learned how to roll it on its side.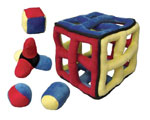 Dit is een moeilijkere variant van de

I-Qube: de Cagey Cube waar met pluchen voorwerpen in verschillende vormen.

Scooter heeft hem goedgekeurd!

This is a more difficult version of the

I-Qube: the Cagey Cube with plush objects with different shapes.

Approved by Scooter!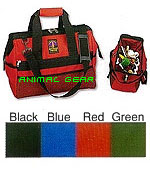 In deze grooming tas van Outward Hound, officieel The Rolling Wide Mouth Pet Gear Bag, vervoeren Scooter en Beetle al hun spulletjes naar de show. De extra large versie heeft veel vakken en is voorzien van een trekstang en wieltjes.

In this Outward Hound grooming bag, officially The Rolling Wide Mouth Pet Gear Bag, Scooter and Beetle transport all their stuff to shows. The extra large version has lots of handy pockets and rolls on wheels.