Deze survival was LEUK! Ga naar
als je ook een keer zo'n honds adventureweekend wil meemaken.
if you want to do a doggy adventure weekend, too.

Mijn Aussiebroertjes en -zusjes hebben ook pret! Volg hun avonturen in de
puppenclub
en
puberclub




Beetles pret pagina
Beetles fun page









Geniet mee van alle leuke dingen die jonge Beetle heeft meegemaakt!

Come and join the fun that young Beetle experienced in his life!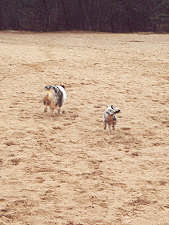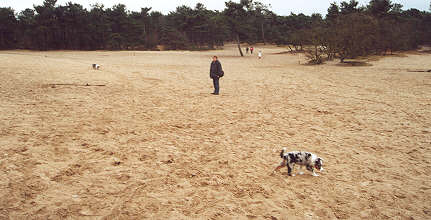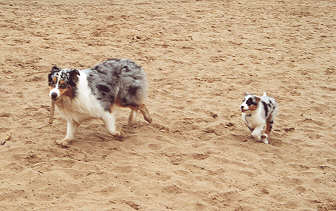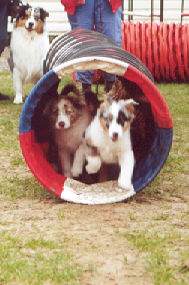 Hey! That's me and my little sister Sha-De doing some tunnel racing!
Dad is watching us




Ik ben met Scooter meegeweest naar de zandverstuiving.
Gróót dat het daar was!
Scooter and I went to some sandy plains in the forest.
Boy did I see a lot of sand!

He pap, wacht op mij!
Hey dad, wait for me!

Scooter plaagt me met een stok
Scooter is teasing me with a stick

Neem een kijkje in Beetles mijn vader en ik-foto album
Take a look in Beetles me and my dad-photo album


Mijn Aussiebroertjes en -zusjes hebben ook pret! Volg hun avonturen in de
puppenclub
en
puberclub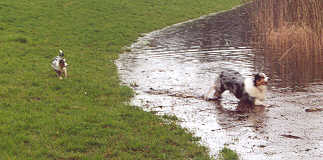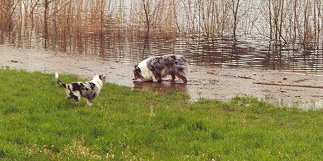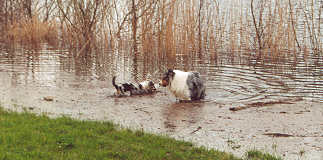 Mijn eerste zwemles
My first swimming lessons

In het voorjaar mocht ik voor het eerst zwemmen met mijn vader. Hij deed voor hoe je in het water moest springen. Ik vond het eerst nog een beetje eng. Hé pap, wacht op mij!
In the spring my dad took me for a swim. He showed me how to jump in the water. I was a bit reluctant at first. Hey dad, wait for me!

Ik ben voor het eerst in het water! Een dag later kon ik al echt zwemmen.
In the water for the very first time! A day later I knew how to swim like a professional.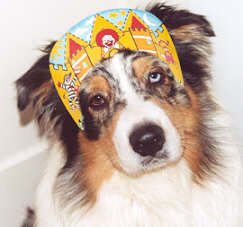 Mijn vader is echt helemaal te gek. Hij is de grootste pretaussie die ik ken! Hij is al heel vaak bij McDonald's geweest voor een doosje McNuggets. Hier draagt hij zijn speciale petje om te laten zien dat hij een echte nuggets-fan is. Als ik later groot ben mag ik ook kipnuggets eten.

My dad is so cool! I think he is the funniest Aussie in the world. He likes to go to McDonald's to eat a box of McNuggets. Here you can see him wear his special McDonald's cap to show he is a real nuggets-fan. When I am grown up I can eat chicken nuggets, too.

Mijn vader de McAussie
My dad the McAussie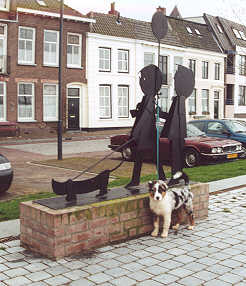 Beetle ontmoet Jip en Janneke
Beetle meets Jip and Janneke

In de stad Zaltbommel waar ik woon staat een standbeeld van Jip en Janneke, de beroemde figuren uit de kinderboeken van Annie M.G. Schmidt. De tekenaar van de zwart-wit tekeningen van Jip en Janneke, Fiep Westendorp, is in Zaltbommel geboren. Hier poseer ik samen met Jip en Jannekes hondje Takkie voor de foto.
Ondanks dat Takkie wel erg rustig was vond ik het heel leuk om hem te ontmoeten.

My hometown Zaltbommel has a statue of Jip and Janneke, two famous characters out of a series of childrens books written by Annie M.G. Schmidt. The artist who made the black and white drawings of Jip and Janneke, Fiep Westendorp, was born in Zaltbommel. Together with Jip and Jannekes little dachshund Takkie I am posing for a picture. Takkie was very quiet but still it was very nice to meet him.



Beetle de reporterhond
Beetle the reporter dog

Judith werkt als verslaggeefster bij een regionale krant en ik mocht de eerste tijd mee naar haar werk. Mijn vader Scooter heeft als reporterhond wel eens een spoor van bloeddruppels gevolgd om de plaats van een vechtpartij te achterhalen. Ik mocht laatst mee als reporterhond om de werking van hondenpoepzakjes te testen. Niet zo spannend natuurlijk maar wel heel leuk.
Judith works as a journalist for a regional newspaper and I was allowed to join her to the office for a while. My dad Scooter as a reporterdog once followed a bloodtrack to find out where there had been a fight. My recent job as reporterdog was to test poo bags in a local park. Not so exiting of course but still fun to do.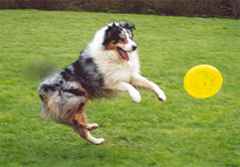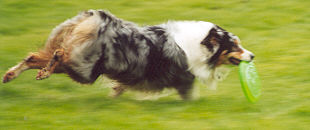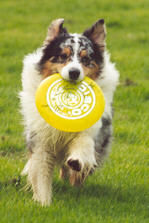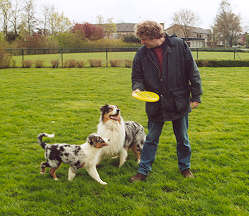 Mijn vader is een frisbee-Aussie. Ik ga elke dag mee naar zijn trainingsveld om hem te zien spelen.
Ik ben nog te jong om frisbee te doen :0(
My dad is a frisbee-Aussie. I join him to his personal frisbee field each day to watch him play.
I am too young to play frisbee :0(

Gekke bos Aussies!
Crazy bush Aussies!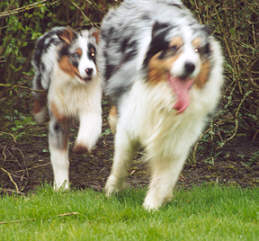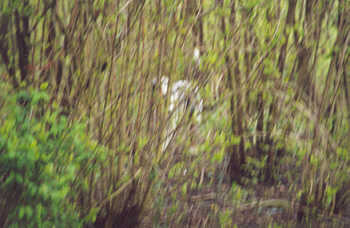 Mijn vader en ik hebben een nieuw spelletje bedacht: zo HARD mogelijk door de bosjes rennen!
My dad and I invented a new game: run through the woods as FAST as you can!

Jaaaaa, rennen rennen RENNEN!!!
Yeah, run run RUN!!!

Zoek de Aussie
Find the Aussie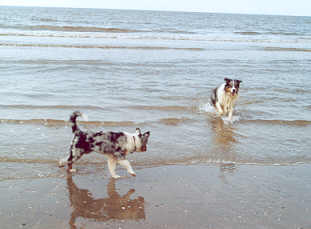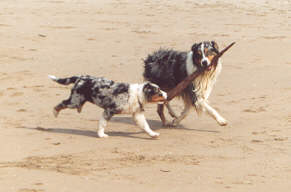 Voor het eerst aan zee. Mijn vader zei dat ik geen water mocht drinken.
Waarom niet? Er is toch genoeg?
Meeting the sea for the first time. My dad told me not to drink the water.
Why not? There is plenty of it!

Pret op het strand. Ik heb een hoop zand mee naar huis genomen als souvenir. En wat had ik een dorst na dat zoute water!
Fun on the beach. I took a lot of sand home with me as a souvenir. And boy was I thirsty after drinking that salty water!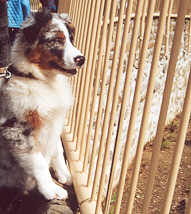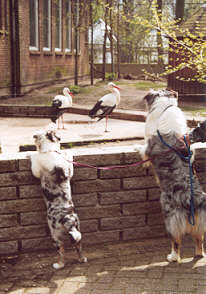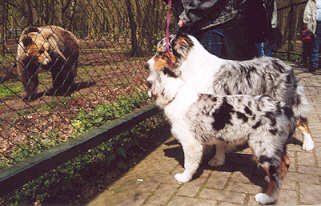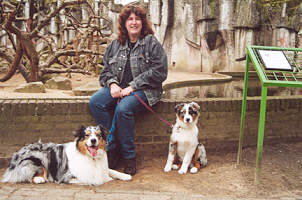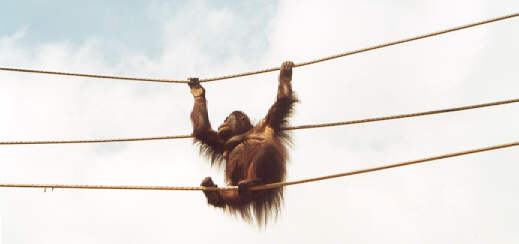 No, this is NOT Beetle! :-)

Beetle in de dierentuin
Beetle in the zoo





Bedreigde diersoort!
Dit mens en haar honden
niet voeren s.v.p.
Endangered species!
Please do not feed this human and her dogs

Scooter en ik mochten mee naar de dierentuin. We hadden zo veel bekijks dat we net zo goed zelf in een hok hadden kunnen gaan zitten!
Scooter and I visited the zoo. We attracted so much attention that they could have given us our own cage!

Wauw, leeuwen!
Wow, lions!

Kijk pap, hele grote vogels!
Look dad, very big birds!




Bijna neus-aan-neus met een beer! Best wel eng, zoals je aan Scooters oren en mijn staart kunt zien.
Almost nose-to-nose with a bear! Pretty scary, as you can tell from Scooters ears and my tail.

Ben je wel eens in een dierentuin geweest? Er valt daar zo veel te zien en te ruiken!
Have you ever been to the zoo? There is so much to see and to smell overthere!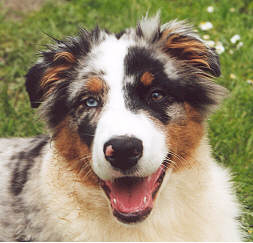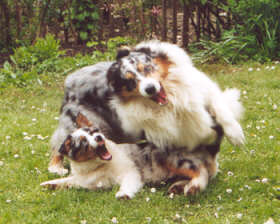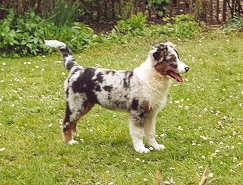 Kom op pap, racen!
Come on dad, let's race!

Beetle en Scooter hebben de tuin verbouwd zodat deze geschikt is geworden voor hun favoriete sport:

Beetle and Scooter have remodeled the garden. It is now ready to play their favorite game: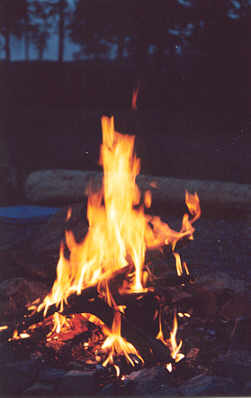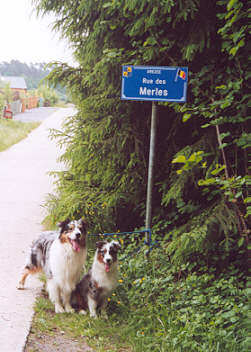 We hebben een boswandeling gemaakt. Hier koel ik mijn voetjes in een riviertje.
We had a walk through the woods. Here I cool my feet in a river.

We hebben ook in een kano gevaren op de Ourthe. We zijn zelfs omgeslagen!
We also made a trip on the river Ourthe in a canoe. We even collapsed with our boat!

Samen met Scooter ben ik een weekend op hondensurvival geweest in de Belgische Ardennen. Weet je aan welke straat we logeerden? Aan de 'Rue des Merles' oftewel de Merlestraat. Zouden ze dat speciaal voor ons hebben gedaan?
Together with Scooter I did a dog survival weekend in the Belgian Ardennes-region. Do you know the name of the street where we stayed? The 'Rue des Merles' or Merle Street. Did they do that especially for us?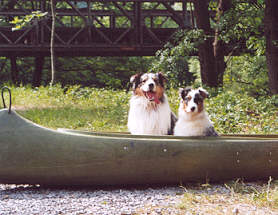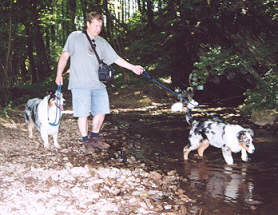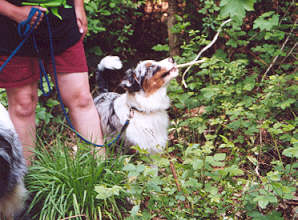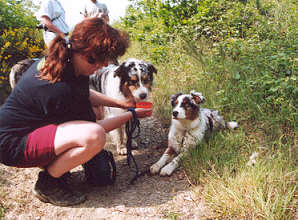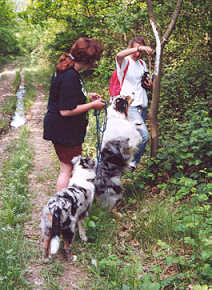 Tijdens een speurtocht moesten we onze neus gebruiken om eten zoeken. Hier vinden we kauwstaafjes in de bomen.
During a search we had to find our own food by using our nose. We found chewy treats up in the trees!

Survival maakt dorstig. Onderweg kregen we drinken uit een veldfles. En weten jullie dat er in de Ardennen nu zelfs een wandelpad naar mij is vernoemd?
Survival makes you thirsty. We stopped to drink out of a water bottle. And did you know that after our visit they named a walking trail after me?

Deze survival was LEUK! Ga naar
als je ook een keer zo'n honds adventureweekend wil meemaken.
if you want to do a doggy adventure weekend, too.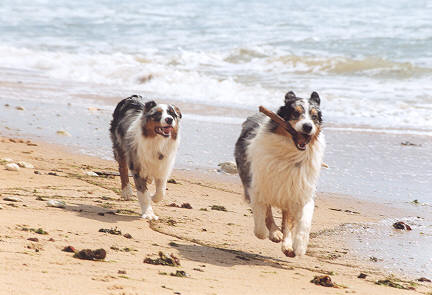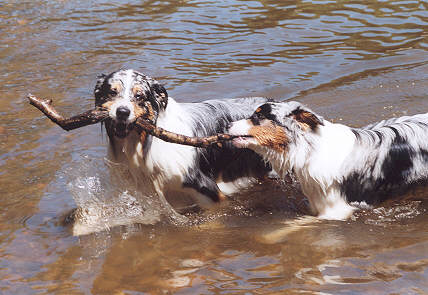 Beetle in Frankrijk
Beetle in France

My very first holiday in France!
Scooter and I slept in a tent and went swimming every day in the river Dordogne

Mijn allereerste vakantie in Frankrijk!
Scooter en ik sliepen in een tent en gingen elke dag zwemmen in de rivier Dordogne

We waren ook nog op het strand. Ik kan mijn vader al bijna bijhouden!
We also went to the beach. I can almost keep up with my dad!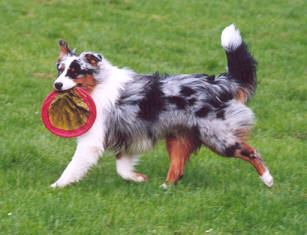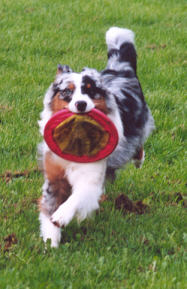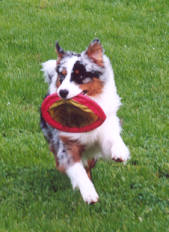 Eindelijk ben ik dan oud genoeg om ook een beetje frisbee te mogen spelen!
Finally I am old enough to play a little bit of frisbee, too!