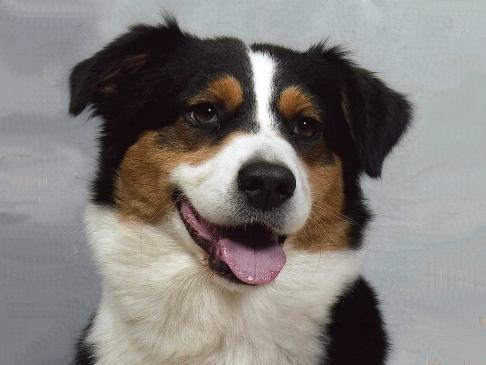 Dit is Beetles vriendin Alby!

Alby of Rum Jungle oftewel Alby is geboren in de Of Rum Jungle kennel en woont nu bij Frits en Jolanda de Kinderen, waar ze de stamteef is van kennel Of the Sandy Dunes. Alby is in oktober tweemaal gedekt door Beetle, op 7 november is er een echo gemaakt waaruit blijkt dat ze drachtig is. Op 8 december 2006 zijn de pups geboren. Zoals je uit onderstaande Canine Pregnancy Calendar kunt opmaken, is dat drie dagen vroeger dan verwacht.
Alby is een hele sociale black tri teef die op shows als uitmuntend en zeer goed is beoordeeld. Haar ogen, oren en heupen zijn getest en goed bevonden. Alby is gecoupeerd en geboren met een halve staart (natural bob). Haar hobby's zijn gehoorzaamheid en bovenal frisbee en behendigheid. Net als Beetle is ze dol op zwemmen, spelen, sporten en stoeien.

Dit nest veelzijdige Aussies is gefokt volgens de regels van de Australian Shepherd Club Nederland.

Meer weten over Alby?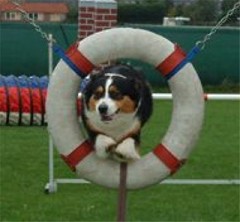 This is Beetles girlfriend Alby!

Alby of Rum Jungle aka Alby is born in the
Of Rum Jungle kennel
and lives with Frits en Jolanda de Kinderen, where she is the foundation bitch of the
Of the Sandy Dunes
kennel. Alby was mated twice by Beetle in October, on November 7th a scan was made showing that Alby is in whelp. The puppy's were born December 8th 2006. As you can conclude from the
Canine Pregancy Calendar
below, they were born three days early.
Alby is a very social black tri bitch that was rated as excellent and very good at shows. Here eyes, ears and hips are tested and okay. Alby is docked and was born with half a tail (natural bob). Her hobby's are obedience but first and foremost frisbee and agility. Like Beetle she loves to swim, play, sport and roughouse.

This versatile litter is bred according to the rules of the Dutch Australian Shepherd Club.

Do you want to know more about Alby?

Pedigree for litter Beetle x Alby
Sire
Ch. Bouncin Beetle of Clan Miphydes GG2 CD JN-S
Sire
Ch. Moonlight's Flyin' Dutchman
Sire
Ch. Moonlight's Hottest Thing Goin
Sire
Ch. Some Like it Hot of Adelaide
Dam
Gingerbred's Sweet Success CD
Dam
Flo Sonya Red Marie
Sire
Riveroaks Mr Custom Made
Dam
Bluecrest Caldonia Del Oro
Dam
Horseman's Phrenitic Phyrne
Sire
Ch. Frieko's Red Indian Summer SCHH I A-3 DNA-CP

Sire
Ch Gitalongs Dark Side O'the Moon DNA-CP

Dam
Propwash Raven Maid
Dam
Farmhouse Linda
Sire
Bill von Flachsberg
Dam
Las Rocosa Delightful Lass
Dam
Alby of Rum Jungle
Sire
Caitland's Rocky Mountain High
Sire
Caledonia's Crowd Pleaser
Sire
Jimmee Blue of Adelaide
Dam
Butterfields Silky Suzann
Dam
FVF Snowbound Daring Diva
Sire
George of Falcon ViewFarm
Dam
Humeston's Justin Thenickotime
Dam
SDR Amazing Blue
Sire
Silberbergs Special Moment
Sire
Fantasia's Magic Moment
Dam
Phillip's Francy Fleck
Dam
Fantasie's Shield Of Faith
Sire
Fantasia's Master Piece
Dam
Fantasia's Cinemascope
This pedigree page was built for free at SitStay.com